Glory days have returned to Minnesota basketball, at least from where I'm sitting. Gone are the Dan Monson days of mediocrity. After luring Tubby Smith to the Twin Cities two years ago, Minnesota has a decent crop of talent and the biggest bench in the conference.
Key Returnees: F Damian Johnson, G Lawrence Westbrook, G Al Nolen
Key Departures: None
Recruits: F Royce White (Hopkins, MN), G/F Rodney Williams (New Hope, MN), G Justin Cobbs (Torrance, CA), G Bryant Allen (Maplewood, MO), F Trevor Mbakwe (Miami, FL)
Need: Star Player
2010 Outlook: With Minnesota, what you see is what you get, at least in Smith's first two seasons. Looking at their roster, there isn't one guy that can change a game on the offensive end. Each player is complimentary to the next. Some shoot threes, some distribute, some rebound, but there isn't one guy that can do all of those things consistently. At least not yet. Defensively, though, Minnesota was one of the best teams in the nation. Damian Johnson didn't get enough credit for his defense, dispite the fact he was shot-altering machine. And anybody who follows Big Ten basetkball knows what Al Nolen can do on the defensive end. Don't expect that defensive tenacity to go away.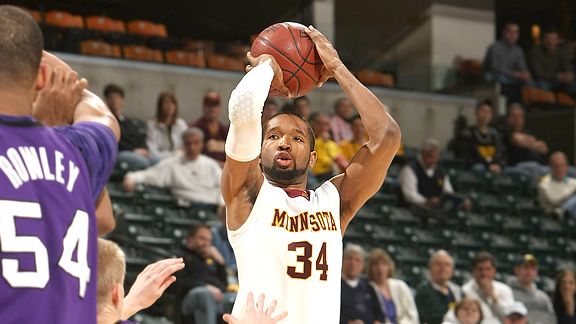 Incoming freshman Royce White can do those things offensively for the Golden Gophers. He's got about as much hype as any freshmen in Minnesota history and he hasn't even played a minute in the Maroon & Gold. The 6'7", 210 lb. small forward is ranked as No. 19 on Rivals.Com's Top 150 for 2009 (second-best small forward) and was a McDonald's All-American. Expect him to log major minutes next season and be the pre-season front runner for Big Ten Freshman of the Year. The kid's got game.
His fellow incoming freshmen aren't too shabby, either. Rodney Williams is a good complimentary swingman who has good size for the off-guard position (6'5", 185). They've got two good point guards in Justin Cobbs and Bryant Allen, and power forward Trevor Mbakwe has been drawing rave reviews for his physical low-post style. Don't forget this Minnesota team really didn't even lose much. Backup center Jonathan Williams was the only departing senior, while both Travis Busch and Kevin Payton decided to get forgo their senior seasons and graduate. A sure-fire Top 25 recruiting class for Smith. The rich get richer, as they say.
Minnesota's emergence as a contender likely depends on the development of big men Ralph Sampson III and Colton Iverson. They looked lost at times as freshmen, but Gopher fans are hoping they can improve as much from year one to year two as Illinois' similar tandem of Mike Davis and Mike Tisdale. They've got the size, and that's something you need in the Big Ten.
I think of any team in the Big Ten, Minnesota has all the right pieces. They've got the coach who has been to the promise land before (Smith), a good mix of youth (White, Williams) and experience (Johnson, Westbrook), a deep bench (Blake Hoffarber, Devoe Joseph, Paul Carter, Devron Bostick) a tenacious defense and an unselfish offense. They have the versatility to go big or small, fast or slow. I said this earlier this month, but do not be surprised to see Minnesota in the Sweet 16 come March. If everything falls together, the 2010 season can be a special one.
Photo: ESPN.Com
Next: Ohio State